Frequently Asked Questions
Call (800) 282-6237 For A FREE In-Home Consultation In The Tampa Bay Area!
Looking for answers? We have them listed below.
SHOWER DOORS
Q. How do I clean my shower doors?
They have calcium marks from hard water and also soap scum.
And then how can I better maintain them so this doesn't happen again?
A. First off, I'm not a fan of harsh chemical cleaners being used in close quarters. NO one should be breathing that stuff!!!
Items needed:
Nice new abrasive sponge
Concentrated dish soap (make sure its concentrated)
Bottle of unfiltered apple cider vinegar
Box of baking soda
Small bucket or mixing bowl
Start with six or seven drops of the soap concentrate
Add six ounces of the unfiltered apple cider vinegar
Add four ounces of warm water
Stir up and blend the mixture evenly
Add 1/2 box of baking soda (standard size box)
Slowly blend baking soda into mixture
You now have a non-toxic abrasive cleaning solution that will cut through the water spots, soap scum and calcium.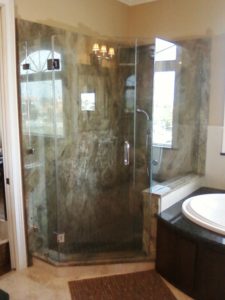 Start at the top of the door and work your way down. It's usually funkier as you get towards the bottom and corners.
This will not harm the glass or metal frame work of the shower doors. Work in even circular motions when on the glass. Once the doors are clean and free from any build up, let them dry for a few hours and then apply Rain X to the inside of doors and frame. Follow application instructions the same as if you were treating your wind shield or head lights of your car. Once dry, the Rain X will repel water and soap.
It is also a great idea to keep a squeegy in the shower to wipe down the doors after showering.
Repeat the above process whenever needed.
Remember, it's a lot less work if you catch it before it's too cruddy.
POPCORN CEILINGS
Q. I've heard that getting rid of popcorn ceilings is a very messy ordeal. Isn't there a neater and easier way to eliminate these ugly popcorn ceilings?
A. Yes, the traditional removal methods for getting rid of popcorn ceilings are in fact quite messy, however there is a neat clean alternative to scraping, re-texturing, sealing, priming and painting. Simply cover them up, no need to scrape and go through that mess.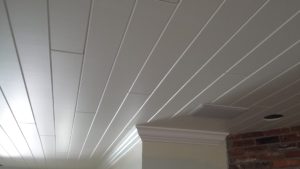 I highly recommend the white tongue and groove plank ceilings, such as the Woodview Elite from DeGeorge Coastal Living ceiling collection. Most rooms can be completed in just one day and you'll be back to entertaining by that evening. You can add crown molding or possibly even beams.
Another alternative, to make your home a little more yours!
"GRANITE Maintenance"
Q. How do I maintain my granite counter top?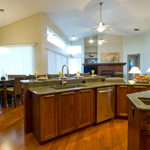 A. Lets first start off with some do's and don'ts:
- Always use a cutting board when cutting on your granite counter top. This isn't to protect your counter top, but rather to protect the blades of your knives, as granite is a flat rock and will greatly dull your knife blades.
- Always use a trivet when removing hot pots and pans from the stove, never go directly from the burner to the unprotected counter top. Granite has natural hair line fractures called fissures. When left in an ambient state they should remain unchanged, however going from 70 degrees to 250 degrees instantly, can pop, crack or generally exaggerate these areas. Better safe than sorry as we all know granite tops are one of your home's larger investments.
- For general maintenance, swipe down with a clean cloth soaked in warm water and then direct with a nice fluffy clean bath towel (I keep one especially for the counter tops) should be the normal routine. However, if there is soil, oil or something sticky just add a couple of drops of dish soap to your bowl of warm water and wipe down the counter tops and dry with the fluffy towel. This will also shine and preserve the granite beautifully.
What types of ceilings do you install?
From simple to elegant. DeGeorge Ceilings has the style for you. From rich wood-grain textures to the charm of an old-fashioned tin ceiling ... there's a look for every room in your home.
DeGeorge Ceilings cover unattractive drywall or plaster ceilings that have cracks, nail pops, stains and other damage. Our ceilings also have no visible grids, they reduce noise, are easy to clean and are fire- retardant.
There are many different styles to choose from that would be perfect for your bedrooms, bathrooms, living rooms, family rooms and kitchens (indoor and/or outdoor) or what-ever room in your home needs that designer touch.
What is an acoustical ceiling?
Acoustics is usually very broadly defined as "the science of sound." The term "Room Acoustics" can be more narrowly defined as the shaping and equipping of an enclosed space to obtain the best possible conditions for faithful hearing of wanted sound and the direction and the reduction of unwanted sound. It deals primarily with the control of sound which originates within a single enclosure, rather than its transmission between rooms.
In addition to reducing the undesirable background noises that originate withing a room, the acoustical objective often includes preservation of the wanted sounds. For example, any space considered to be speech or music room -- upper grade classrooms, assembly halls, or wherever we are communicating to an audience of some kind, requires faithful reproduction of wanted sound. The techniques are retention and reinforcement of useful sound reflections. In short, we control sounds for communication with reflective surfaces, and we control reverberation and background noise levels with absorptive surfaces.
Can I put insulation on the back of an Armstong ceiling?
Only DeGeorge suspended ceiling panels (2' x 4') that are at least 5/8" thick can be back-loaded with additional insulation. Rolled insulation must be used and installed perpendicular to the cross tees so that the weight of the insulation rests on the suspended grid system, and there is air space between the insulation and the panel. Ask your dealer for specific details.
Note: Insulation must never be placed behind fire-rated ceilings, unless designated in a UL design assembly. Backloading fiberglass panels is not recommended.
What about the insulation value between floors?
Most ceilings are installed between floors that are maintained at the same temperature - making insulation unnecessary. Basement recreation rooms are at least partly heated by heat flow through the ceiling from the heated space above. In that case, attempting to insulate the basement ceiling surface could actually reduce heat flow.
Can ceiling tile be used in the bathroom?
Yes, if the bathroom is vented to the outside with a fan. DeGeorge ceilings with HumiGuard Plus are extra sag resistant for use in areas of high humidity. BioBlock paint treatment inhibits the spread of mold and mildew.
Can the ceiling be installed over embedded radiant-heat coil ceilings?
No. An appreciable loss of heating efficiency will result and the ceiling will not remain stable.
Can a hanging or swag lamp be used with an DeGeorge ceiling?
Yes, if supported independently by an existing structural member.
Can a new ceiling be cemented directly over old ceiling tiles?
In many cases, the old ceiling may have deteriorated and an adequate hold cannot be obtained. Therefore, cementing over old ceiling tiles is not recommended.
How much will a new ceiling cost?
Not as much as you think! Costs vary according to product design and performance features.
Please call 1-800-282-6237 for complete pricing.
What is the minimum overhead distance required for a new suspended ceiling?
DeGeorge suspended ceilings require a minimum of 3" (if installing recessed lighting, measure the height of the light and add 2") of overhead clearance. Suspended fiberglass ceilings require a minimum clearance of 2-1/2". OptiGrid™ reduces clearance needs to only 1-5/8".
Can existing light fixtures be used with a new ceiling?
Yes. DeGeorge ceilings are adaptable to standard lighting fixtures.
What kind of fluorescent lamps should be used with DeGeorge ceilings?
All lamps must be rapid-start. Warm white and cool white are most efficient, but deluxe and natural-colored lamps provide a more pleasant atmosphere.
How many fluorescent lighting fixtures will I need for a new ceiling?
Standard rule for light fixtures is two 4' fluorescent tubes for every 75 square feet of suspended ceiling.
Will the ceiling sag over time?
No. DeGeorge ceilings are treated with a special back coating to resist moisture. When properly installed under the right conditions (no excessive humidity, etc.), they remain level and flat. We recommend using HumiGuard Plus panels or fiberglass panels in areas of high or seasonal humidity; they are not recommended for spaces exposed to continuous moisture, such as shower rooms and swimming pool areas.
Do DeGeorge ceilings protect against flammability?
All DeGeorge ceiling panels, tiles and planks are fire-retardant and meet Class A flame-spread ratings with the exception of WoodHaven planks, which meet Class C flame-spread ratings.
Where can I get product warranty information?
Detailed product warranty information is included with every ceiling product. A DeGeorge representative will provide you with the warranty paperwork after installation.
What brands of ceiling products do you sell?
We only carry Armstrong ceiling products. Armstrong is a a global leader in the design and manufacture of floors, ceilings and cabinets.
In the Zone: A New Way to Make Your Kitchen Work
Kitchen design has been dominated for decades by the concept of the "work triangle" created by the refrigerator, sink and stove. The idea still works for one lone cook, but it fails in the face of modern living.
In a search for an updated approach to designing kitchens, Krasner visited restaurants, where cooks work in zones dedicated to specific tasks. She began to think about how this type of organization could apply to home kitchens. Ultimately, she defined four zones or work stations in the home kitchen: wet, dry, hot and cold.
Each zone anchors an appliance or function and each has its own storage and space requirements.
"If you use the zones, you'll have a kitchen that works for you and the way you cook," Krasner says. "Other people can be in the kitchen without being in the way. The whole point of kitchen design is to support family and community life. It's about connections between people. That's why it's important."
Here's a description of each zone:
The wet zone includes the sink, dishwasher and any appliances linked to water – like the coffee maker and grinder or an electric tea kettle. Other items like a salad spinner, colander or cleaning supplies can be kept here.
The dry zone typically requires more space because this is where most of the food preparation and assembly is done. It calls for a lot of counter-space with easy access to the refrigerator. Other things to consider include cupboards, drawers, a storage pantry and nonrefrigerated storage space for perishables like fruit and bread.
The hot zone houses the range, the oven and toasters. It also includes storage for the pots and pans, baking dishes and sheets, cooling racks, pot holders, spatulas and mixing spoons and bowls.
The refrigerator anchors the cold zone. Storage containers and plastic wraps for leftovers are kept nearby.
Krasner suggests anyone renovating or building a kitchen keep the concept of zones in mind. But just rearranging items can be a big help too.
"Most people put things wherever they fit in the kitchen," Krasner says. "If you start thinking about putting things in the zone where they're used, suddenly your kitchen will become much more efficient."
Solid hardwood floors can complement the modern kitchen and tie in with zones. "When you're in the kitchen, you want a floor underfoot that has some resiliency, some sound absorption, one that can be refinished," Krasner says. "And as kitchens become more and more a part of the social spaces in our homes, the beauty of the floor becomes more important. Certainly, a hardwood floor is a lot more beautiful than a vinyl one."
Krasner recommends providing a little extra protection to wood floors in the wet zone, especially in front of the sink. A tile insert can be laid in that spot. A rug that can be thrown in the washing machine or a canvas floor cloth are also good choices.
Hardwood butcher block is a nice complement to the dry area. A coating of food-safe oil is needed if the surface will be used for chopping, Krasner says. In the wet zone, a little extra protection from moisture (a coat of well-maintained urethane) goes a long way for hardwood countertops that will not come into direct contact with food.
How Do You Use Your Kitchen?
Whether you're updating an existing space or building your dream kitchen, consider these questions of lifestyle and function. Your answers will shape nearly every choice you make about your new kitchen, from layout and lighting to furniture and flooring. A kitchen design professional's help can be invaluable during the entire process.
What's your style?
Organization is essential. Consider conveniences such as a second sink or a work island for efficient activity especially if there's more than one cook at home. Also consider your food preparation style. A gourmet cook needs far more space and uses a wider variety of appliances than a "basics-only" cook. For bread-making or candy-making projects you may want a special work center.
How you use an appliance will determine its location. If you use a microwave to cook main course dishes each day, place it front and center. But if you use it only to reheat leftovers or make popcorn, place it in a less frequently used part of your kitchen.
Do you entertain often?
If so, you may need: an uninterrupted counter top; a table to stage a buffet; a second oven or warming drawer to keep foods toasty; or an elegant wood wine rack with space for hanging glassware. Also, a desk comes in handy when planning elaborate menus.
Is easy maintenance your priority?
If you hate to clean, choose carefree materials, such as polyurethaned hardwood floors and hardwood cabinets because they are less likely to show fingerprints and can be wiped clean with a damp cloth. Look for light-stained cabinet doors with smooth surfaces that don't collect dust or require detailed cleaning.
Is your kitchen Grand Central Station?
Is your kitchen used exclusively for cooking? Or is it the family gathering spot for dining, snacking, paying bills, doing homework, conversation and relaxation? Do you want a kitchen TV or radio? How about storage space for cookbooks, note pads, and phone directories? One way of increasing your kitchen's flexibility is to have it open to an adjacent living area. Wood mouldings, paneling, wainscoting, chair rails and other decorative details can seamlessly connect these spaces.
Ceramic tile is an especially good choice for families because they stand up to spills and other wear-and-tear.
What are your family's special needs?
Do family members have physical limitations, such as arthritis or poor eyesight? Account for these when planning work areas, storage and lighting. You may discover a need for child-safety closures, convenient countertop heights for very short or tall family members, and roll-out cabinet trays that can be opened with a toe-kick.
Kitchen Shape and Cabinet Placement
Although kitchens have evolved into true living spaces, there are still "tried and true" principles of kitchen design that haven't really changed over the years.
Even with all of the guidelines, keep in mind that it is important to leave your personal stamp on your kitchen. Don't be afraid to get creative. Bend the rules a bit here and there to create a kitchen with interesting eye appeal. Your designer will be happy to make suggestions, like using cabinets with varying heights and depths, open shelving and see-thru door fronts, mouldings and other features that will give your kitchen its own personality.
There are really only five fundamental "shapes" of kitchens.
U-SHAPED. Cabinets and appliances are arrayed along three walls. This works best with the sink in the center of the "U" and the refrigerator at one end of a counter.
L-SHAPED. Cabinets and appliances on two walls that meet on a corner.
CORRIDOR. Cabinets and appliances on two facing walls. It's helpful here to have the sink and the stove on the same counter.
OPEN PLAN. The traditional kitchen area is enlarged to include the family room, a dining area, and other spaces for relaxing or entertaining.
ONE-WALL. Also known as a galley kitchen, all cabinets and appliances are along a single wall.
One of the principles of kitchen design is creating an efficient and comfortable pattern of movement through the kitchen. The "work triangle," as it is known, is the shortest walking distance between the three primary work points—the refrigerator, primary cooking surface, and primary food preparation sink. It is important to emphasize "primary" because many kitchens today feature multiple cooking surfaces and sinks.
Experts recommend that the work triangle should cover a route of no more than 26 feet, with no single leg of the triangle shorter than four feet or longer than nine feet. If the kitchen features islands or peninsulas, they should not intersect the work triangle by more than one foot. If the kitchen has only one sink, it should be located between or across from the cooking surface, preparation area or refrigerator. And, if two cooks are working at a time, two work triangles should be in place, although one leg of both triangles can be shared.
A kitchen design professional will advise you on the many, time-tested guidelines to help ensure efficiency, safety and comfort. These basic planning principles run the gamut and include how much space to leave for walkways, work aisles, seating and counters. They also cover minimum cabinet frontage depending on kitchen size, appliance placement, ventilation, counter heights, work center configurations and a host of other important considerations.
For example, if you follow these guidelines for a smooth-functioning kitchen, you will leave at least 18 inches of counter space on one side of the sink and 24 inches on the other. You'll be sure the dishwasher is positioned within three feet of the sink and you will give yourself at least three feet of countertop for food preparation.
The Three Zones
Kitchen design expert Deborah Krasner believes that form follows function, and has taken the work triangle one step further. She has developed the concept of kitchen zones, spaces that are anchored by a major appliance or function. Her conclusion is that if a kitchen doesn't function efficiently and effectively, it doesn't matter how fabulous it looks.
For example, the wet zone not only includes the dishwasher and sink, but also adjacent storage for items used in that zone like coffee makers and blenders. The hot zone, as you might imagine, includes the oven and cook top along with the host of pots, pans, and other items used for preparing food that ends up on the cook top or in the oven.
Finally the dry zone is anchored by a food preparation area. This area typically requires a long run of countertop with plenty of storage for pantry items—non-refrigerated foodstuff like breads, cereals, snacks, and fruits. Ideally, says Krasner, the dry zone should be located along the same side of the work triangle as the refrigerator.
Cabinet Door Styles
What's your style? With the help of cabinets, you can create a kitchen that reflects your personal style. Remember, there are infinite varieties to choose from. A few of the styles available include: Flat panel or Recessed square, Raised panel, Mullion, and Cathedral.
Hardwood floors are environmentally friendly and they add to the value of a home. A recent survey of real estate agents estimates that hardwood flooring can add as much as $7,000 to $10,000 to a home's resale value.
SOLID WOOD FLOORS
Solid Wood flooring comes in three basic types:
STRIP flooring accounts for the majority of installations. Strips usually are 2-1/4 inches wide, but also come in widths ranging from 1-1/2 inches to 3-1/4 inches. They are installed by nailing to the subfloor.
PLANK flooring boards are at least 3 inches wide. They may be screwed to the subfloor as well as nailed. Screw holes can be covered with wooden plugs.
PARQUET flooring comes in standard patterns of 6" x 6" blocks. Specialty patterns may range up to 36" square units. Parquet often achieves dramatic geometric effects of special design patterns.
| | | |
| --- | --- | --- |
| Type of Hardwood Floor  | Standard Thickness  | Standard Face Widths  |
| Strip Flooring | 3/4" | 11/2", 2", 21/4" & 31/4" |
| Strip Flooring | 1/2" | 11/2" & 2" |
| Plank Flooring | 3/4"  | 3", 4", 5", 6", 7" or 8"  |
A solid hardwood floor can be installed on a concrete slab as long as the floor is on or above ground level. They can be sanded and refinished over several generations of use.
Solid wood flooring expands and contracts with changes in your home's relative humidity. Normally, installers compensate for this movement by leaving an expansion gap between the floor and the wall. Base moulding is the traditional "cover-up" for this gap.
ENGINEERED WOOD
Made of several layers of different woods or different grades of the same wood stacked and glued together under heat and pressure. Engineered wood flooring is less likely to be affected by changes in humidity and can be installed above, on, or below ground level. Some engineered wood floors with thicker top layers can be sanded many times.
LUXURY VYNIL
 Simulates natural materials. Luxury vinyl flooring takes on one of two forms. Either it simulates stone (slate, travertine, marble, etc.) or it simulates wood (teak, maple, oak, walnut, and pine).
Waterproof.
Often plank-shaped. Another thing that distinguishes luxury vinyl tile (LVT) is the shape of individual pieces. Traditional sheet vinyl flooring comes in room-widths and -lengths to minimize or even eliminate seams. Normal vinyl tiles are usually square: 12"x12" or 16"x16" most often. Because LVT often imitates solid wood flooring it comes in plank shapes. In this respect, LVT and laminate flooring are the same. Sizes vary, but the general shape is long and narrow. A typical size is 7" wide by 48" long.
Soundproof. Most products have a sound reducing membrane product for use under the LVT.
Extended Warranty. Commercial and Residential Warranty
WOOD LAMINATES
A plywood base topped with a layer of veneer. Plies and thicknesses vary, but three-ply, 3/8 inch flooring is most common. (Remember that solid hardwood floors, at 3/4 inch, are twice as thick as wood laminates.) The veneer topping of wood laminate floors (commonly 1/8 inch thick) can be sanded and refinished three times, at most. Most manufacturer warranties cover the finish for five years.
SYNTHETIC PLASTIC LAMINATES
Usually 1/2 inch thick, plastic laminate flooring consists of a fiberboard center wrapped in top and bottom layers of high-pressure laminate -- a tougher version of the same material used in many kitchen countertops. These floors cannot be sanded or refinished and must be removed when they wear out. They usually come with 10- or 15-year manufacturer warranties against fading, stains and wear.
Look closely at an entire laminate floor, and you'll see that the faux "wood grain" pattern repeats itself. That's because laminate flooring is actually a photograph of real wood stuck to a wood composite. Laminates don't sound like real wood either.
The look, feel – and even the sound – of a floor are important. So are these practical considerations:
Health effects. Doctors often recommend hardwood floors when their patients have allergies to dust and pet dander.
Longevity. Can the floor be refinished and – if so – about how many times?
Durability. Will the floor stand up to the demands of everyday life? Hardwood floors certainly will. It's no coincidence pro basketball courts have maple floors.
Installation and maintenance. Will laying the floors pose any particular challenges? Is maintenance simple?
Cost. How much does an inexpensive floor really cost if it only lasts several years? Hardwood floors will last a lifetime.
Sustainability. American hardwoods are sustainable, renewable and environmentally friendly. Every year, this country's hardwood forests grow twice as much wood as we harvest from them.
When it comes to hardwood flooring, the term "grading" is sure to come up. Grading refers to the system used by manufacturers to assess the appearance of hardwood floors. NOFMA: The Wood Flooring Manufacturers Association grades emphasize color, grain pattern and other markings that occur in wood. Color is determined by what part of the tree the wood comes from, and the grain pattern is determined by species and how the wood is cut.
Color
Heartwood, the oldest, densest, innermost section of the log, is often darker and richer in color than sapwood, which lies closest to the bark. The color difference may be so pronounced that heartwood and sapwood from the same species are marketed under separate names. See the tree diagram in the "Natural Variations in Appearance" article.
Cut
Boards can be cut from a hardwood log in several directions: tangent to the annual rings (plain-sawn or flat-sawn), or radially, across the rings (quarter-sawn and rift-sawn).
Arched or flame-shaped markings, evident in bold-grained hardwoods such as oak, characterize plain-sawn wood, while rift-sawn and quarter-sawn or "quartered" boards show a pattern of roughly parallel lines. Both have advantages depending on application and species.
Unfinished Flooring
If your choice is unfinished oak, you will have four NOFMA grades to choose from:
NOFMA No. 1 Common
NOFMA No. 2 Common
NOFMA Clear and select grades are further identified by sawing direction:
NOFMA Clear Plain
NOFMA Clear Quartered
NOFMA Select Plain
NOFMA Select Quartered
Factory finished
NOFMA also maintains grading standards for pre-finished oak flooring:
NOFMA Prime
NOFMA Standard
NOFMA Tavern
You can choose from two types of finishes: surface finishes or penetrating finishes.
 
SURFACE FINISHES - these are the most popular choice and involve applying a stain to achieve a particular color, followed by a top coat of polyurethane or varnish to give a protective coat. Surface finishes are durable, they resist moisture, and are easy to maintain. There are four options for the top coat, and each has its own benefits:
OIL-BASED URETHANE is the most commonly used floor finish. Available in gloss, semi-gloss, and satin sheens, oil-based urethane is generally applied in two or three coats, with drying time of up to 8 hours for each coat. This type of finish emits fumes as it dries, so adequate ventilation is important. Clean up is accomplished with a solvent similar to paint thinner. An oil-based urethane finish ambers with age.
WATER-BASED URETHANE provides a clear, non-yellowing finish and produces fewer odors than other choices. This product dries quickly, and clean up can be accomplished with soap and water. Some manufacturers make available additives called "cross-linkers" that can be mixed into the water-based finishes for added durability.
MOISTURE-CURED URETHANE is a solvent-based polyurethane that is more durable and more moisture-resistant than other surface finishes. It is mostly used in commercial, high-traffic settings like stores or offices. This finish is available in a satin or gloss non-yellowing formula, as well as one that will take on an amber hue with age. This finish has a strong odor and its application is best left to the professional.
CONVERSION VARNISH is a clear, non-yellowing product that dries in about 8 hours. Like moisture-cured urethane it produces a very strong odor and should only be applied by a skilled wood flooring professional.
PENETRATING STAINS AND FINISHES - these finishes do exactly what their name implies: they penetrate the wood to form a protective seal. The stains soak in to provide color, and a wax coating gives a low-gloss satin sheen that can be maintained with additional thin application. These finishes require special care—water-based products should never be used to clean or maintain the floor, only solvent-based waxes, buffing pastes, or cleaning liquids specifically made for wax-finished wood floors.
SHEEN - High gloss, low gloss, satin finish - your choice is a matter of personal preference. Keep in mind, however, that high gloss finishes show scuffs and scratches more readily than low gloss or satin finishes. High gloss finishes reflect more light and are typically used in more commercial or contemporary settings, while satin finishes reflect less light and are favored for more traditional settings.
EXTRA-DURABLE FINISHES - the latest trends in finishes include products designed to further extend the life of hardwood floors and make them more durable than ever. Some polyurethane finishes contain aluminum oxide to enhance the abrasion-resistance qualities of the floor. Some manufacturers report that this finish is 10 times more abrasion-resistant than other wood finishes, and are guaranteed for up to 25 years.
Swedish finishes are resin-based finishes that originated in Sweden. They form a tough film that is thin enough to allow the grain of the wood to be felt. Swedish finishes do not require waxing and can be recoated without sanding.
Acrylic finishes provide an extremely hard, durable barrier to dirt, moisture, and wear and tear because the finish is actually forced into the pores of the wood at the factory. Acrylic-impregnated floors are among the most expensive and are often used in commercial settings.
Thanks to advances in the heated floor industry, you can install hardwood floors over radiant heat - with confidence. That means you can enjoy the natural beauty of oak, ash, cherry, maple, hickory, walnut and other fine hardwoods and the comfort and efficiency of radiant heating.
As early as 60 AD, the Romans discovered one way to heat an enclosed space is to introduce heat below the floor surface and let it radiate upward into the structure.
Millennia later, radiant heating is more energy-efficient than conventional forced-air heating systems. Some manufacturers say their radiant heating systems will cut energy bills by 20 to 40 percent by avoiding the heat loss associated with forced-air systems. In most buildings, heat loss is greatest in the top half of the rooms and that's where heat is concentrated with forced air heating systems.
Manufacturers also say radiant heat is more efficient because it warms the feet - where circulation is poorest - making people feel more comfortable.
How Radiant Heat Works
Today's radiant heat systems use a three-stage process to convey heated water to its destination.
A water heating system - comprising a standard boiler, water heater, geothermal heat pump or solar panels - warms the water.
A series of controls then pumps the heated water through a tubing network that is installed in the subfloor.
As the warm water moves through the tubing network, it releases its energy and returns to the boiler system to be reheated. This makes for smooth and gentle temperature variations.

Radiant heat systems can be installed in just one room or throughout a new or existing home. A plumbing and heating contractor typically performs the work in conjunction with a flooring installer. Most radiant heat system manufacturers will provide the names of contractors in a given area.
Installing hardwoods over radiant heat isn't much different from laying a typical hardwood floor.
The moisture content of the wood flooring itself is important too. For that reason, it should be kept in the room in which it will be installed for a couple of weeks before it is laid.
Hardwood Flooring Types and Radiant Heat
Radiant heat works well with many different flooring types, including strip flooring (pieces that are less than 3 inches wide) and parquet patterns. The only design option that should be avoided is plank flooring (pieces that are more than 3 inches wide) because seasonal variations in moisture content may cause gapping between the boards. With or without radiant heating systems, all hardwood floors undergo some expansion and contraction as seasons change. You can compensate for this by allowing expansion gaps at the edges of the floor (to be concealed by the overlapping baseboard) and by using tongue-in-groove strips and strips with beveled edges.
To be used outdoors, we recommend the tile must be frostproof and unglazed for floor use. Make sure the absorption rate is 0.5% or less. Since our ceramic tiles are glazed, they are not suitable for outdoor installation.
Glazed tiles are coated with a liquid glass, which is then baked into the surface of the clay. The glaze provides an unlimited array of colors and designs as well as protects the tile from staining. The unglazed tiles are pretty much the same as the glazed tile, except that their surface is not coated. Unglazed ceramic tiles do not show wear because their color extends throughout the tile, making them ideal for commercial applications.
A glazed tile is already stain proof, so there is no purpose to putting on a sealer. You may put a penetrating sealer on your unglazed tile or your grout joints. The penetrating sealer is an invisible, stain resistant shield that is absorbed into the surface.
Unsanded tile grout is used on ceramic tile that has been installed with a grout joint width of less than 1/8 of an inch wide and should always be used on polished natural stone products. Sanded tile grout is used on tile with a grout joint width equal to or greater than 1/8 of an inch.
It depends. With proper installation, ceramic tile is very durable. If you drop a glass or dish, the glass or dish will most likely break, while the tile may chip or crack.
Not necessarily. Porcelain tile is no different in temperature than anything else in the room; it's just that we tend to equate smooth with cold. (Of course, cool is good in warm weather climates!) Still, it's easy to warm things up with an area rug or two.
Because you are getting a superior product. Porcelain tile requires the finest natural ingredients and a rigidly controlled manufacturing process that utilizes the most advanced processes and technology.
Glazed tile should never be waxed. The purpose of the glaze is to give you a maintenance-free floor. If you wax the glaze, you will create more work for yourself. To keep your tile looking new, use a small amount of vinegar in warm water, plus a clean rinse.
If you put a few drops of water on the grout and they bead up, the sealer is OK. If the water absorbs into the grout, it is time to reseal.
Express your personal style with coordinating hardware for cabinets, appliances, and doors.
Choose the look that is right for you and complete your kitchen transformation.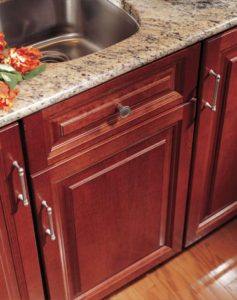 More styles and finishes are available to complete your kitchen.
DeGeorge custom cabinetry leads the way in offering an almost endless selection of door styles, finishes, functional storage solutions and decorative enhancements that allow you to customize your home to suit your style – and your lifestyle with cabinetry "made just for you."
For a FREE estimate, call: (800) 282-6237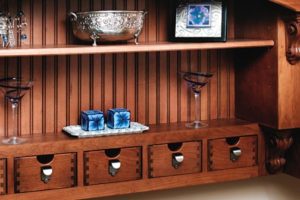 Our flooring products:
HARDWOOD FLOORS
Kahrs, Ark Wood Floors, Ascend Floors, Sawyer and Southern Floors, Wecork Floors, Dalcuore Wood Floors, Pinnacle, Sea Harbor, Nuvelle Wood Floors, Monarch Plank Floors, Sawgrass Hills, DuChateau
FLOOR - ENGINEERED
Kahrs, Mirage, Monarch, Ascend, Cambridge Estate, DuChateau, Ernest Hemingway, American Aqua Wood, Triangulo, Well Made Bamboo Flooring, Bella Cera, Nuvelle, Artisan Mills Flooring, Cortlandt Manor, Anderson, Columbia, Woods of the World, Johnson Hardwood, LM, HT, UA, Indus Parquet, MULLICAN, Forrest, Floors Nature, Shaw
FLOOR - LUXURY VYNIL/POLYMERIC
Chateau, Dalcuore, Nuvelle, Allusion Flooring, Engage by Genesis, Vintage Floors USA, Aqua Shield, Luxury Engineered Planks, Artisan, Density Collection, Ultimate Series Plank, Fusion (Waterproof engineered planks and tiles)
TILE, PORCELAIN AND NATURAL STONE
Porcemall, Megatrade, Happy Floors, Tesoro, IWT, Elysium Tile
Eventile, Travertine and Marble
BACKSPLASH
Dune, Happy Floors, Mayfair Mosaics, DeGeorge Mosaics, IWT, Tesoro
CEILING
ARMSTRONG, USG, Certainteed, Woodview Ceilings, DeGeorge
LAMINATE FLOORS
Armstrong, Pergo
Call DeGeorge Tampa Bay Flooring, the Room Improvement Specialist, for a FREE in-home consultation today!
Toll-Free (800) 282-6237
Click here For directions to our office and visiting our BIG showroom in Clearwater.
Email DeGeorge Tampa Bay Floorings.
This is where you can help those whose queries are not listed in the FAQs above. You can let them contact you by leading them to the Contact us page or your support center where you can take a closer look.